Hours of Operation
By Appointment
Please call 1-888-542-3778 to reach a member of our super hero team OR Book Online anytime at www.licesquad.com*
*After regular business hours please book online and the first available super hero will contact you! We operate 7 days per week, evenings, and weekends!
Call or Book Online Anytime!
Pricing: 
You can expect to pay $85 dollars per hour per consultant for the standard service, with a 1 hour minimum and in 15 minute increments thereafter.* If you choose Lice Squad's Mobile Service Option there is a small mileage fee.  Head screenings are free as part of the service.
For a thorough head check involving wet combing and use of our Robi-Comb you can expect to pay from $ 21.95 per person for a 15 minute check.  We offer letters for schools and daycares.
We offer our #1 Time Head Lice Solution as an add on purchase which requires no follow up. 
Some third party billing and insurance coverage may apply. We never want to turn anyone away based on their inability to pay and may be able to provide alternative options or advice.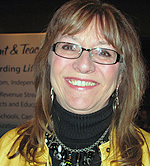 Meet Diane
After helping thousands of families, I can say that my personal experience with head lice was typical. My first time dealing with lice was with my step son. His dad took him to the walk-in-clinic where they told him he had a rash. Then he took him to the family doctor who confirmed that he had head lice. I tried a number of the chemical treatments but they didn't work. So, like so many frustrated parents before me, I shaved his head!! My daughter was visiting my sister at the time and she too had lice. My sister picked for 8 hours then called Lice Squad.
I was so amazed that there was a company that could help families get rid of lice quickly and safely. So I called Lice Squad to get information about purchasing a franchise and I am proud to say that I became the first franchisee with Lice Squad Canada.
Twelve years later, I still love what I do – helping families who are stressed out over head lice. It`s wonderful to see them relax knowing that their head lice issue is being taken care of professionally. They are so impressed with how we do what we do. My customers tell me all the time how happy they are that they called Lice Squad!!