0
Head Lice Expert Dawn Mucci pioneered the head lice removal industry in Canada in 2001.
As the CEO of Lice Squad.com and a true entrepreneur, Dawn formulated her business plan with a focus on quality head lice removal services, education, customer service and eco-friendly products. Dawn's reputation as the Canadian head lice expert has made her the go-to source for head lice education and information appearing on countless news programs, print articles and blogs.
Lice Squad.com has grown over the last fifteen years into a multi-award winning franchise concept whose roots have spread across Canada, providing service to over 30 communities including franchises and clinic locations in many major cities. Lice Squad's over 150 TLC Trained Consultants provide effective, cheerful and informative services from coast to coast to families, schools, daycares, camps and social service agencies. We take pride in being the number one head lice removal company in the world.
A new initiative in 2014, Lice Squad.com began a national giving back program supporting the Children's Aid Foundation. Each year a donation is made through sales of our popular Premium Kit. In recognition of Head Lice Awareness Day on September 17th, sales across the country are included in this annual donation to help disadvantaged children across the country. As a Thank You to teachers across Canada, we are pleased to offer free head lice checks.
As spokeswoman for Lice Squad.com,  Dawn is well-known for her numerous TV appearances  including Breakfast Television, City Line, CBC news, City TV News, Global News, The Discovery Chanel, Slice, The Marilyn Dennis Show, The Mom Show, Real Parenting, and CTV.  Dawn has contributed to and has been featured for her work with Lice Squad.com in MacLean's Magazine, Canadian Living, Parents Canada, Today's Parent, Franchise Canada, The Momprenuer, The Health Journal, The National Post, Toronto Star, Toronto Sun, Canadian Business, The David Suzuki Foundation.com, The Huffington Post.ca and Forbes.com.  Dawn has also written for and contributed to the several business books and magazines including "Great Canadian Franchise Stories" Franchise Canada Magazine, Mompreneur Magazine, Women with Vision and her most recent publication of a children's coloring book. "The Facts of Lice" is helping educate and break the stigma surrounding head lice.  
Lice Squad.com's Mission and Vision remain the same to this day!
Our mission is to change the way people treat head lice and to meet a universal demand for head lice help by delivering environmentally friendly superior products and services.
Our vision is to dispel the stigma associated with head lice and to stop the over use and abuse of pesticides on children and our environment.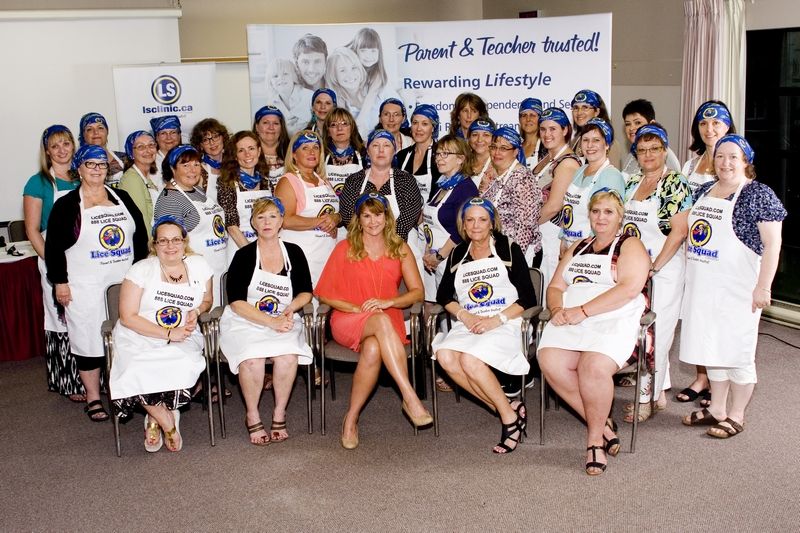 Last week when I realized that my girls had head lice for the 3rd time I thought my life was over again. I called your Lice Squad location and immediately felt comfortable with you. When I met with you and your very professional staff I felt confident that I was in good hands and that you would be able to take care of the situation. You were very accommodating you made my girls feel very comfortable which mean a lot to me as a mother. I assure you that I will recommend you to anyone who is in need of your services.
Tanya
Jenny came to our home today and was just terrific. She put my daughter at ease, did her job quickly and professionally, and we felt 100 percent better after she had finished. I would highly recommend your services to anyone. Thanks! Cheryl Embrett
We just wanted to thank you for having insecticide free products available – my whole gang is allergic to the drug store shampoo's and though we are usually on top of things they are wee littles in daycare and school and sometimes it just happens. So thank you again.Haley
"I just wanted to send a quick note to tell you that your comb is the absolute best lice comb ever made. My daughter and I both battled lice this week and with shoulder length, thick hair, I thought we would never manage with the plastic combs we found at the drug store. The school's head lice nurse mentioned your comb and I bought it immediately. It made a huge difference for us. I am now telling everyone I know about it. Thank you so much! . Sarah, Ont.
"When we got lice a second time, I knew I couldn't deal with it alone. The first time it had taken us two months to get rid of the problem. Thank heavens for Lice Squad. I called, a consultant came the next day and by the time she left we were all lice and nit free. The Louse Buster is an amazing machine. Thanks for your help.Sue, Barrie, Ont.
Corporate & Franchise Locations