There's A New Kind of Super Hero Out There: Meet Dawn Mucci and Her League of Extraordinary Super Heroes
Dawn never forgets the day she discovered head lice on her son. "It feels like yesterday," she says "my immediate thought was that I had to get rid of it but then I realized … hey what about me? What options do I have?"
The answer Dawn soon found out was that there was very little she could do to help herself. "It was in that moment I realized, I have to help not only myself but other Moms too. We spend so much time taking care of our children that when a crisis like this happens there's very little support for us".
Dawn started out as a mobile service but quickly, word got around and she soon found herself in such high demand she recognized the need to hire staff and get a clinic space. "I find that there are clients who want to do it all in the privacy of their homes but then there's an equal amount who don't want to deal with it at home. They want to come to a clinic environment instead." Dawn's inspiration for the now franchised clinic environment came from hair salons. "We are just like a hair salon only, we remove head lice," she laughs.
It's been just over 16 years since Dawn first opened her business but now, she plays a bigger role than she could have ever imagined. Dawn's franchise is now 36 franchise and corporate locations strong with over 250 service providers from coast to coast. She has been recognized as one of the leading ladies in Canadian Business.
If her name sounds familiar, it's probably because you've had to deal with head lice at some point and has come across the Lice Squad.com brand in some way. After all, Dawn and her Super Hero Team are considered the go to for all things head lice!
"Half of what we do is provide service and products but the other half of what we do is educational", says Dawn. "When a client calls our office, they are usually in a panic. Head lice isn't fun to deal with. That's why we always say that we LOVE what we do so you don't have to."
Dawn is truly grateful for her Super Hero Clients and her Super Hero Team and owes her success to them. "I can't take credit for the success of this company. I couldn't be here today providing this service to communities all over Canada without the help of my Franchisees, my head office team, the many consultants who spend hours with our clients each day, and of course the clients who choose our company over anyone else.
Considered the pioneer in her industry, Dawn is constantly evolving and changing to serve her clients better. Her most recent additions to her Lice Squad.com products and services … is the #1Time Head Lice Solution.
"The #1Time Head Lice Solution took a lot of time and financial investment to achieve but I'm so proud that it now exists as an option for our clients," says Dawn. The #1Time Head Lice Solution is mineral based and gets rid of head lice and nits (eggs) within one hour, leaving only some hair debris. This revolutionary product is exclusively available through the Lice Squad.com brand.
These days, the school system has become so relaxed with their head lice protocol and to top it off, head lice have become resistant to most over the counter options. Lice Squad.com's approach is a "one and done" system. "Head lice removal is one thing, but prevention is really the key. Therefore, we educate our clients and offer prevention products, so they can walk away from the experience with peace of mind," says Dawn.
Who would have thought that 17 years ago, Dawn Mucci would follow her passion to help others and create a brand that continues to help more and more families across Canada every day!
She's also a little bit famous – having graced the cover of July/August 2018 Franchise Canada Magazine, Dawn has also been seen on The Social, Breakfast Television, City Line, CBC news, City TV News, Global News, The Discovery Chanel, Slice, The Marilyn Dennis Show, The Mom Show, Real Parenting, and CTV. Dawn has contributed to and has been featured for her work with Lice Squad.com in MacLean's Magazine, Canadian Living, Parents Canada, Today's Parent, Franchise Canada, The Momprenuer, The Health Journal, The National Post, Toronto Star, Toronto Sun, Canadian Business, The David Suzuki Foundation.com, The Huffington Post.ca and Forbes.com.
Dawn has also written for and contributed to several business books and magazines including "Great Canadian Franchise Stories", Franchise Canada Magazine, Mompreneur Magazine, Women with Vision and a children's coloring book called "The Facts of Lice". "The Facts of Lice" is helping educate and break the stigma surrounding head lice. It's just another Super Hero way Lice Squad.com saves the Day", says Dawn proudly. She should be proud, wearing so many hats for so many years and devoting countless time and energy to find new ways to help her clients. Let's hope she finds some time to relax and unwind.
"When I'm not at the office, I enjoy spending time with my family, the Super Hero Team after hours, kayaking, swimming, cycling, yoga, and walking my two dogs Georgie and Lamb Chop.
When asked if she ever sees herself slowing down, Dawn answers without skipping a beat, "NEVER! If there are families out there in need of what we do, I'm going to continue to provide our products and services. Our goal is to grow our Franchise to all areas of Canada there are a few territories still left to go but we'll achieve this goal within the next few years", she says confidently.
"We truly have an amazing job to do, we help people, we make a difference, and they really appreciate us for it. It's one of the reasons we get up every day and do what we do." Dawn is a big fan of giving back to the community, in fact Lice Squad.com has contributed to many local charities including Children's Aid Society, Youth Haven, C.O.P.E Dogs, and others.
"At the end of the day, you have to really love what you do. The passion must be there especially in our case I mean … we remove head lice. It's not the most glamorous job to do but it is arguably one of the most rewarding. I'm blessed and fortunate to have found my Super Hero Team that believes in this company just as much as I do."

Our Mission
To change the way people treat head lice and to meet a universal demand for head lice help by delivering environmentally friendly superior products and service.
Our Purpose
To dispel the stigma associated with head lice and to stop the overuse and abuse of pesticides on children and our environment.
Why
We love what we do.
Our Values
BELONG               Believe in our common why, mission and purpose.
TRUST                   Serve others and always do the right thing.
FEEL GOOD         Put people first.  Be giving and grateful!
HAVE FUN          Deliver a SUPER HERO experience.  NO ONE HAS MORE FUN THAN WE DO!
HAPPINESS         Share some, it's contagious!
Last week when I realized that my girls had head lice for the 3rd time I thought my life was over again. I called your Lice Squad location and immediately felt comfortable with you. When I met with you and your very professional staff I felt confident that I was in good hands and that you would be able to take care of the situation. You were very accommodating you made my girls feel very comfortable which mean a lot to me as a mother. I assure you that I will recommend you to anyone who is in need of your services. Tanya
Jenny came to our home today and was just terrific. She put my daughter at ease, did her job quickly and professionally, and we felt 100 percent better after she had finished. I would highly recommend your services to anyone. Thanks! Cheryl Embrett
We just wanted to thank you for having insecticide free products available – my whole gang is allergic to the drug store shampoo's and though we are usually on top of things they are wee littles in daycare and school and sometimes it just happens. So thank you again.Haley
"I just wanted to send a quick note to tell you that your comb is the absolute best lice comb ever made. My daughter and I both battled lice this week and with shoulder length, thick hair, I thought we would never manage with the plastic combs we found at the drug store. The school's head lice nurse mentioned your comb and I bought it immediately. It made a huge difference for us. I am now telling everyone I know about it. Thank you so much! . Sarah, Ont.
"When we got lice a second time, I knew I couldn't deal with it alone. The first time it had taken us two months to get rid of the problem. Thank heavens for Lice Squad. I called, a consultant came the next day and by the time she left we were all lice and nit free. The Louse Buster is an amazing machine. Thanks for your help.Sue, Barrie, Ont.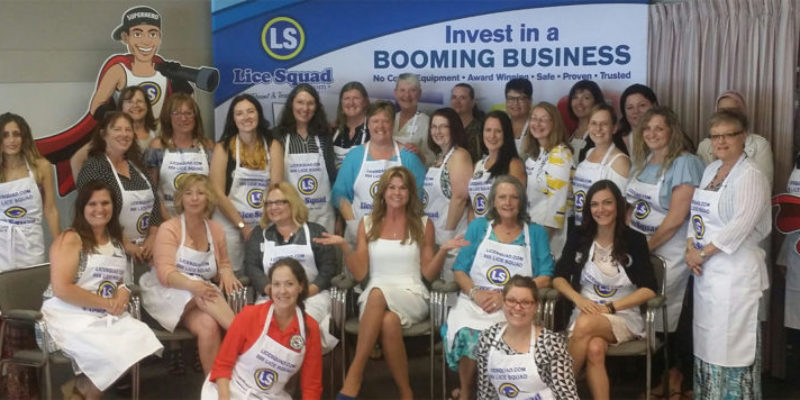 Corporate & Franchise Locations