Our clinic is located at 850 Pape Ave., Unit 2A, Toronto, ON M4K 3T6.
Mobile (in-home) service also available.
Hours of Operation
Call for Appointment
(416) 466-0261
Monday: 9am- 8pm
Tuesday: 9am - 8pm

Wednesday: 9am - 8pm
Thursday: 9am - 8pm

Friday: 9am - 8pm

Saturday: 9am - 3pm
Sunday: 10am-2pm

Or Book Online Anytime!
Free Wi-Fi!
Pricing: 
You can expect to pay $85 dollars per hour for the standard service (Enzyme service, comb out – aftercare combing is required), with a 1 hour minimum and in 15 minute increments thereafter.* If you choose Lice Squad's Mobile Service Option there is a small mileage fee depending on your location. Our Express #1 Time Service is $ 85.00 per hour plus the purchase of the #1 Time Solution Kit ($89.95) and requires no aftercare. Some third party billing and insurance coverage may apply. We never want to turn anyone away based on their inability to pay and may be able to provide alternative options or advice.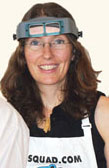 About Karin
Karin first learned about head lice while working as a medical assistant for a Pediatrician in Germany. When her own daughters were diagnosed with lice, she got to experience how time consuming and frustrating it can be to remove lice, eggs and nits, especially when all combs and shampoos did not seem to work.
Karin is trained as an Ontario Certified Lab Technician and bought the Toronto Franchise in 2005. She opened the very first Head Lice clinic in Toronto in 2011.
Her experienced and helpful Lice Lady team has grown to 15 Consultants all of which are personally trained by Karin in the Lice Squad method and have been cleared to work with children and the vulnerable sector, by the Toronto police Services. With over 16,000 families and schools assisted, there are few lice questions that Karin cannot answer.
Testimonials
We just wanted to send a note of thanks. Your prompt, kind, informative and friendly service took care of our head lice problem quickly and without the use of pesticides. Since the first letter came home in JK that a child in your child 's class had head lice.l have been dreading this situation. Instead of it being a scary or unpleasant experience, Nicole felt like she was at a spa and wanted time to turn back so she could enjoy her first treatment again! All of the vacuuming, laundering, treatments and comb through were still a major inconvenience, but nothing compared to if you hadn't come right away. My husband and I are both teachers so we really appreciated that Nicole could go right back to school. Special Thanks to Zenia, she was great. Our whole family's sincere thanks. Our children's school will pass on your contact info to frustrated parents and I've also passed the info onto another friend. Carol P. Nov. 2005

I am totally impressed by how thorough Lice Squad Canada is in providing families with the most accurate information and tools they need to learn how to properly detect, treat and prevent Lice using safe and non-toxic methods. Furthermore a thoughtful, caring and compassionate manner is consistent in the delivery of their services which will without a doubt bring comfort and relief to families who are in the midst of trying to overcome the stress involved with dealing with lice. Lice Squad Canada offers a truly reliable and effective lice treatment service. As both a naturpoathic doctor and a mother, I highly recommend Lice Squad Canada. Christine (Naturopathic Doctor and mother) Feb 2014

Our family has used Lice Squad several times over the past years and recommend their services highly. They are extremly responsive and professinal and even pleasant to spend time with, while dealing with itchy head lice infestations. We particularly like their approach that includes safe products and education. Jennifer Aug. 2014

Our three girls with long, curly hair were all growing their hair for Wigs For Kids, and they all had lice. My head was itchy. I spent hours nitpicking, cleaning, washing, trying to conquer lice. Our Family friend gave me the number of Lice Squad. Jenny came to our home and combed the middle daughter while I combed the other two. Jenny combed me too. Jenny was calm, kind and patient. She educated me on the process if lice reduction. I felt empowered. I thought that Jenny was going to be coming to our home to save me from the lice infestation. What I got was an education as well as how to detect and reduce lice. I would never hesitate to recommend Lice Squad to friends or neighbors. Thank you very much Lice Squad. Elizabeth L.

The Lice Squad clinic, off the Danforth, is one of the nicest spaces in Toronto that you will want to visit. Get your head checked as an excuse to see it. Tastefully adorned with healthful art and appeals to children, and the child in all of us, the environment has been prepared perfectly to provide a therapeutic experience for personal and comminuty hygiene. As a mother of three, I was left with little energy and self-confidence to check my ouwn hair as thoroughly as I had my children's. I was fortunate the Lice Squad clinic was welcoming, imformative, and thorough in treating and educating me about lice. The city is fortunate in having them as part of its healthcare services. Maria K.

Wonderful. positive experience. Very informed and helpful staff. Thank you,; A.K.

I finally have peace of mind. Brought tears to my eyes. I am truly grateful and will never forget the amazing women I got to meet and welcomed us with open arms. It felt like family. Thank you, Thank you, Thank you.; Janet D.

"Thank goodness for Lice Squad on Pape Avenue and Tammy in particular!!! We know that we can trust them to take care of our family, quickly, cleanly and expertly. Highly recommended!!" Jennifer, Toronto

I just want to let you know that Lisa was an angel in a week that has been very stressful. She was amazing with my children, put my mind at ease, gave me practical advice and a regime that will give me back some of my life. I am so glad I didn't wait another day and called your company right away. I would highly recommend your organization, and you are fortunate to have an employee like Lisa Dawn G.

My 2 daughters and I had lice for a week. We tried EVERYTHING and spent HOURS picking lice. I kept thinking they were clear, took them to school only to be sent home again with me being told my 6 year olds was the worst case they had ever seen. I heard about Lice Squad on Fri. night, left a message, and sure enough got a call Sun. from the franchise owner, Karin. She calmed me right down, told me to stop everything and relax. I cried with relief. Mon. morning at 9:30, Jenny arrived with her bag of goodies. After spending a week home with my girls going crazy, after a few short hours, I could return to work and my girls went to school. I was very pleasantly surprised with how much it cost, and it was worth EVERY penny. I'm now telling everyone I know if they hear about a lice case, tell them not to do anything except call the Lice Squad. Fabulous service, picker and owner. Hats off! To Karin and Jenny, I can honestly say I love them for giving us our lives back Eileen

I had Jenny come by yesterday and she did an amazing job in terms of education and support. I feel more confident to manage the situation now and my children made it to their final day of school! I got the comb and the pesticide-free product, both of which I appreciate. I feel like we can better manage and hopefully eradicate this by the new year. Thanks! Carolynne

The person who came to our home was very wonderful and very professional. Her name is Jenny. Can't thank her and you enough. We will be booking a follow up with Jenny in a couple of weeks. On the phone I spoke with Karen who was very professional and well informed and helpful. Thanks! Cynthia

The Lice Squad is professional, dependable, caring and I wouldn't even try to get through "having lice" without them! Kelly C Feb 2014

I would like to express my sincere gratitude towards Karin and Lisa. Karin was the first contact person that received my initial call of distress. She promptly called me back and was prepared to provide a consultation the same afternoon. But shortly thereafter, I received a call from her colleague, Lisa, who finished with her client early and was able to come over to our house. Lisa was very friendly and was excellent with the kids. Her calmness and reassurance helped us through the whole lice ordeal. We purchased the "Lice Squad" brand of enzyme hair shampoo along with their brand of comb. This comb works better than the original comb "Lice Meister" that I bought the day before. The service and products that I purchased from "Lice Squad" was worth every penny. I would definitely recommend this company to anyone who must deal with head lice. M.C., East York

Lice Squad is a life saver! Your professionals put us all at ease. This was our second experience with Lice Squad. We knew we needed to call because your incredible comb caught a case in the very very early stages. This prevented a hug outbreak in our family and at school. Thank you Tonja and Thank you Lice Squad E.B
"So very grateful to have had your services suggested to us!! We have two children, both of whom are severely Autistic, and our first experience with lice was yesterday when our daughter was sent home from school with a pretty bad infestation. After calling our local Lice Squad (Toronto), we made an appointment for this morning.
Our daughter has extreme hypersensitivity with everything to do with her head (it took over two years for her to become OK wearing a winter hat!), and we were all pretty anxious about how she'd react to any sort of treatment, let alone the caustic shampoos we wanted to avoid if at all possible. Your technician Lisa spent several hours treating us, and she was exceptionally kind, patient, and determined to ensure we all had what we needed to feel educated and equipped to maintain the high-level of care she provided to my family. Our daughter has already mentioned Lisa several times since she left today: "I did it! I saw my Lisa! I had my hair! Hooray!".
Thank you for providing such special services to our special-needs family. ♥ We will recommend you to everyone, always!"
I would like to express my sincere gratitude towards Karin and Lisa. Karin was the first contact person that received my initial call of distress. She promptly called me back and was prepared to provide a consultation the same afternoon. But shortly thereafter, I received a call from her colleague, Lisa, who finished with her client early and was able to come over to our house. Lisa was very friendly and was excellent with the kids.

Her calmness and reassurance helped us through the whole lice ordeal. We purchased the "Lice Squad" brand of enzyme hair shampoo along with their brand of comb. This comb works better than the original comb "Lice Meister" that I bought the day before. The service and products that I purchased from "Lice Squad" was worth every penny. I would definitely recommend this company to anyone who must deal with head lice.

M.C. from East York

I just want to let you know that Lisa was an angel in a week that has been very stressful. She was amazing with my children, put my mind at ease, gave me practical advise and a regime that will give me back some of my life.

I am so glad I didn't wait another day and called your company right away. I would highly recommend your organization, and you are fortunate to have an employee like Lisa.

Thanks again. Dawn G.

Dear Lice Squad,

We just wanted to send a note of thanks. Your prompt, kind, informative and friendly service took care of our head lice problem quickly and without the use of pesticides.

Since the first letter came home in JK that "a child in your child's class had head lice" I have been dreading this situation.

Instead of it being a scary or unpleasant experience, Nicole felt like she was at a the spa and wanted time to turn back so she could enjoy her first treatment again!

All of the vacuuming, laundering, treatments and comb through were still a major inconvenience, but nothing compared to if you hadn't come right away.

My husband and I are both teachers so we really appreciated that Nicole could go right back to school.

Special Thanks to Zenia, she was great. Our whole family's sincere thanks. Our children's school will pass on your contact info to frustrated parents and I've also passed the info onto another friend.

Carol P.

My 2 daughters and I had lice for a week. We tried EVERYTHING and spent HOURS picking lice. I kept thinking they were clear, took them to school only to be sent home again with me being told my 6 year olds was the worst case they had ever seen. I heard about Lice Squad on Fri. night, left a message, and sure enough got a call Sun. from the franchise owner, Karin. She calmed me right down, told me to stop everything and relax. I cried with relief. Mon. morning at 9:30, Jenny arrived with her 'bag of goodies'. After spending a week home with my girls going crazy, after a few short hours, I could return to work and my girls went to school. I was very pleasantly surprised with how much it cost, and it was worth EVERY penny. I'm now telling everyone I know if they hear about a lice case, tell them not to do anything except call the Lice Squad. Fabulous service, 'picker' and owner. Hats off!

To Karin and Jenny, I can honestly say I love them for giving us our lives back.

Eileen